Happy March!
Have you been busy this week crafting or cooking
?
I've been sick, so if you have any great soup or popsicle recipes I would love to see them K
?
Thanks.
Welcome to Sweet Saturday, where you can link your creative projects, meet friends and find inspiration.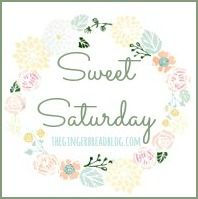 Here are the features from last week:
DIY Pennant Gift Bag
Coconut Sugar Cookie Recipe
By: Elizabeth and Co.
Letter Wall Tutorial
Dr. Seuss Pancake Breakfast
Row O' Bows Camera Strap Tutorial
Easter Marshmallow Bark
Thank you to all of you who linked up!
* Please link up your crafty, yummy or DIY
post, not your blog address.
Features will be posted on next weeks' Sweet Saturday.
* I "pin" each feature *HERE* on my Pinterest page specially made for features.
* I added a new mouseover feature to the photos for all my blog posts (tutorial here) so if you hover over a link thumbnail you'll see a Pinterest button, if you want to pin a link press that Pinterest button, if you just want to see the link press the link title.