YES! It's Saturday and I can't wait to start my crafts and fabric flowers. I will also have a house full of fifth graders for my sons birthday party, so say a little prayer for me K? They will be munching on Wing Stop and playing video games, nothing to exciting, but that's how Kaleb rolls, hes a simple kid.
I have a stack of fabric waiting to be made into these lovely hair clips:
How dangerous would I be if I actually had a daughter? Ha!
I hope you have a great weekend friends, let's get to the link up!



Welcome
to
Sweet Saturday
,
a link party where you get to share your latest projects! Feel free to share any recipes, crafts or DIY goodness.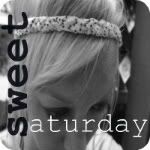 Origami Butterflies
Lime Raspberry Cheesecake
DIY Painted Bottles
DIY Wooden Frames
If you were featured feel free to grab a button from the button link.
*Please link up your crafty, yummy or
DIY
post, not your blog address
*It would be great if you could include the button from the sidebar or link back to gingerbread
* Comment on other friends' post, comments are sweet!
Every week I will highlight a few projects from the previous week, so you can check back next week to see if you were featured!
Thank you so much for sharing your artsy goodness, I love seeing your creative projects!
Ok, let's see what you have to share!