I'm posting Sweet Saturday early this morning with a nervous heart. I am getting ready to take my sister to have her baby, like right now. I picked her up yesterday and we walked like crazy trying send her into labor. She's already 4 cm dilated but her contractions were coming and going. She has asked me to be in the delivery room and I am crazy nervous but excited to see my niece being born. EEK!
Here she was yesterday when I picked her up from my dad's house, are you ready for the cuteness?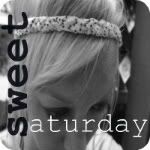 Here are a few features from last week:
Chevron Quilt
By:
Stars and Sunshine
Fold Over Clutch DIY
Stenciled Corkboard
Dishtowel Pillow
>> Baby Update:
We were sent home. False labor sucks, but it was good practice. Hope you have a great weekend! I'm going to take a nap, I'm EXHAUSTED!
******************************************
If you were featured feel free to grab a button from the button link.
*Please link up your crafty, yummy or
DIY
post, not your blog address
*It would be great if you could include the button from the sidebar or link back to gingerbread
* Comment on other friends' post, comments are sweet!
Every week I will highlight a few projects from the previous week, so you can check back next week to see if you were featured!
Thank you so much for sharing your artsy goodness, I love seeing your creative projects!
Ok, let's see what you have to share!